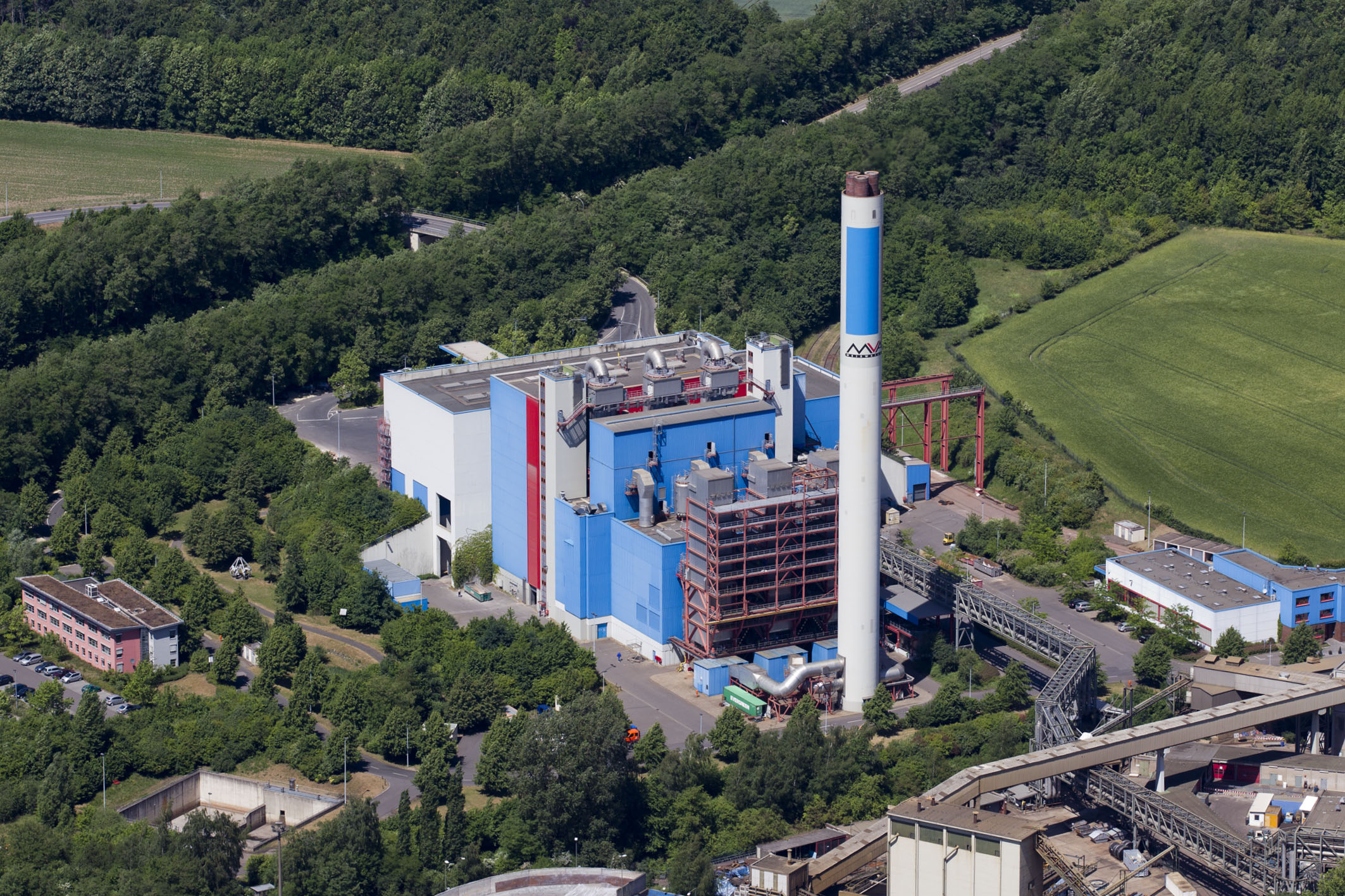 Case Study: MVA Weisweiler, a long term and sustainable partnership with Solvay
MVA Weisweiler, a German Waste-to-Energy plant, switches to SOLVAir®
A medium-scale Waste-to-Energy plant in Germany, facing the frequent challenge of variability in mix and quantity of pollutants, needed to reduce emission levels to meet increasingly stringent regulations.  SOLVAir® was identified as the ideal flue gas treatment choice as it can treat different acid pollutants, reduce operational costs and increase energy yield through an easily adaptable process that enables compliance with current and future regulations.
Key Figures 
360,000 t of waste treated / year

Service provided with waste disposal for 820,000 people in the region of Aachen

Total power output around 35 MWel (3 lines), enabling power supply to more than 70,000 households

Energy yield optimization from 79% to 83%

Self-energy consumption reduced by 87 GWh/year

Cost reduction linked to natural gas consumption > 2.4 M EUR/year (at previous cost level) -

more than 5 million Euros per year, with current natural gas market prices.
CO2 emission reduction: 22,000 ton/year
(Data: November 2020)
Meeting stringent BREF legislation with variability in mix and quantity of pollutants 
MVA Weisweiler, a modern waste incineration plant in Germany, offers waste disposal security for approximately 820,000 citizens. The plant treats both household and industrial waste in equal quantities for a total of 360,000 tons/year, generating around 1,000 to 1,500 mg/Nm³ HCl and 500 to 1,000 mg/Nm³ of SO2.  Similar to many waste-to-energy operations, the variation in the quantity and mix of the acid pollutants to be treated represents a major challenge for the facility.  
Reducing emissions and operating costs through more effective flue gas treatment 
In 2008, the incumbent flue gas treatment system consisted of a lime-milk-based wet scrubbing system followed by a tail-end SCR with natural gas reheating. However, operating costs linked to this configuration and the level of maintenance required for the wet scrubbing systems were continually growing. At the same time, increasingly stringent emissions regulations drove MVA Weisweiler to consider alternative flue gas cleaning systems to lower both emissions and operating costs. 
Solvay shares expertise in dry sorbent injection technology for acid gas removal
The SOLVAir® team of international experts has more than 30 years of experience supporting hundreds of clients worldwide. Whether our clients need to build a completely new Dry Sorbent Injection (DSI) system, add a DSI to their current installation, or as in the case of MVA Weisweiler, are considering switching to DSI, we actively support them in their search for an optimal cost-effective flue gas treatment system that will be easy to adapt, now and in the future.
SOLVAir® is a customer-centric solution. We strive to build partnerships with our customers to find long-term solutions for their exhaust gas cleaning systems, helping them gain efficiency in their everyday operations.
Director de desarrollo de negocio
Preliminary tests and technical assessments to ensure effective HCl and SO

2

mitigation   
SOLVAir® teams began conducting tests in 2008 using mobile equipment (dosing and injection devices plus a mobile laboratory) to test the effectiveness of the process. Technical assessments were then made to estimate the new OPEX based on test results and a benchmark for the feasibility study.
After conclusive tests, MVA Weisweiler decided to use SOLVAir® for three lines, allowing the company to significantly reduce acid gas emissions in order to reach annual mitigation rates significantly below BREF and the 17th National Emission Protection Regulations. 
SOLVAir® is a simple-to-install and easy-to-operate solution. Only one sorbent is needed to treat a variety of acid pollutants in varying quantities, and the process is easy to align to current and future regulations.
Director de desarrollo de ventas
Since the installation, SOLVAir® has proved to be a key partner in delivering the dry sorbent, contributing to the growth of the customer, and providing associated services such as performance tracking and quality follow-up.



MVA Weisweiler's mitigation rates for SO

2

, HCl and more well within regulations thanks to SOLVAir®  (significantly below BREF requirements) 
Yearly average in mg/Nm³ 11>% O2

Dust

SO2

NO2

CO

COC-total

HCl

NH3

Hg

MVA Weisweiler 

2022 mitigation rates

1.26

9.56

81.84

2.51

0.29

4.22

1.58

0.00276

BREF WI and 17th National Emission Protection Regulation law

5

20 

100 

50

10

10 

10

30ug
SOLVAir® is the ideal flue gas treatment solution to improve operational efficiency while reducing costs

 
SOLVAir® not only enabled the facility to meet the challenge of effectively mitigating various types and quantities of acid pollutants, but MVA Weisweiler also benefited from reduced energy consumption and operational costs. The plant's self-energy consumption was reduced by 87 GWh/year, resulting in a total increase of usable capacity of 2.9 MWth in addition to 2 MWe. As a result, the cost reduction linked to natural gas consumption, calculated at the time of the conversion from wet to dry in 2011, corresponds to 2.4 million Euros/year, with an overall CO2 emission reduction of 22,000 tons/year. As of today, this cost reduction would amount to more than 5 million Euros per year, with current natural gas market prices.
An increase in marketable steam production
Finally, the energy yield of the plant was optimized from 79% to 83%. The total thermal power output of around 35 MWelth (three lines) results in power supply to more than 70,000 households. SOLVAir® is the single solution able to provide such a high energy balance in terms of marketable energy recovered from the process. Any other kind of flue gas treatment would have generated higher operational costs, maintenance or reduced flexibility to reach such low emission values.