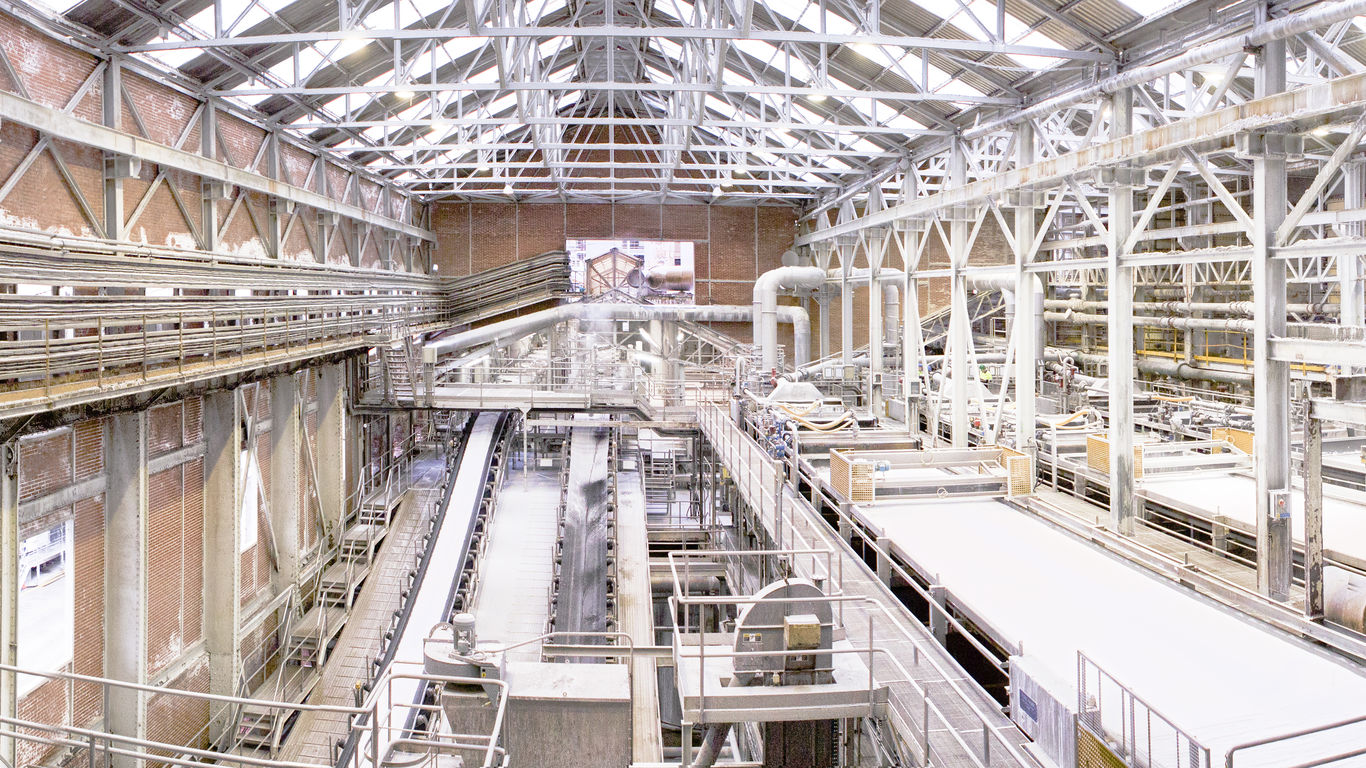 SOLVAir® S300 & S350, sodium bicarbonate based sorbents
Why choosing SOLVAir® S300 and SOLVAir® S350?  
SOLVAir® S300 and SOLVAir®S350 reduce acid gas stack emissions in highly contaminated flue gases in many industries, from power generation to waste incinerators, metallurgy, cement production and industrial boilers.
Resulting from 30 years of improvements
These products are part of SOLVAir®'s sodium-based sorbents manufactured at Solvay plants all over the world. Product formulations for these sodium sorbents have been constantly improved for over 30 years, as we strive to always provide our customers with the most cost-effective and efficient solutions.
The way sodium based sorbents work
The way sodium sorbents work is as follows: as the sodium bicarbonate enters the hot flue gas stream, it is rapidly converted to sodium carbonate particles with greatly increased surface area and porosity. This 'activated' carbonate neutralizes acid gases (hydrochloric acid, sulfur dioxide, hydrofluoric acid, etc.) with very high efficiencies. Nitrogen oxides (NOx) removal ranging between 10-20% has also been observed during SO2 abatement in Dry Sorbent Injection (DSI).
The versatility of S300
Select 300 is particularly versatile because it is effective over a wide range of operating temperatures and conditions. Furthermore, its efficiency is vastly improved when milled prior to injection into the flue gas stream.
S350, our ready-to-use solution
SOLVAir® also offers SOLVAir®S350 sodium bicarbonate, a pre-milled, ready-to-use product, thus eliminating the cost and maintenance of a mill. Solvair S350 is made to very tight specifications and can enhance performance when used in a properly designed injection system. Furthermore, using a milled product tends to reduce the quantity of sorbent consumed.
The premium quality of SOLVAir® sodium based sorbents
A plant's operating conditions will ultimately impact the performance of the dry sorbents in acid gas removal. The most important variables for high removal efficiency are: sorbent particle size, mixing or dispersion of the sorbent into the gas stream, retention time, injection temperature, and concentration.

Key benefits of SOLVAir® S 350 and S 300
SOLVAir® S350 & S300 : Quick and efficient sodium bicarbonate based sorbents
SOLVAir® S300 and S350 have proven to be very efficient in air emission control for the neutralization of acid gases. As sodium bicarbonate reacts very rapidly with acid gases, it is able to achieve very high levels of removal of these pollutants when used in a properly designed DSI (Dry Sorbent Injection) system.
Non-hazardous and easy to handle products
Sodium bicarbonate sorbents produced by the ammonia-soda process developed by Solvay is a neutral, non-corrosive, non-irritant, non-toxic and easy-to-handle product, which can be applied in a wide range of operating conditions.

Supply chain and logistics
Because SOLVAir®'s sodium-based sorbents are non-hazardous products, its transportation and storage are not subject to specific regulations.
 
Solvay's nine sodium bicarbonate plants are strategically located globally to achieve the double benefit of close proximity to raw materials and to major customers, thus ensuring good logistics. Packaging
SOLVAir® S300 and S350 come in various types of packaging:
Bulk: full loads of 20 to 30 tons, delivered by truck equipped with pneumatic unloading systems
Bulk bags: medium-sized packages in 1 to 1.2 tons - woven coated PP with inner liner PE - 4 loops with discharging spout
Bags: 25 kg/50 lbs. PE bags on covered pallets of net loads of 1 to 1.4 ton.