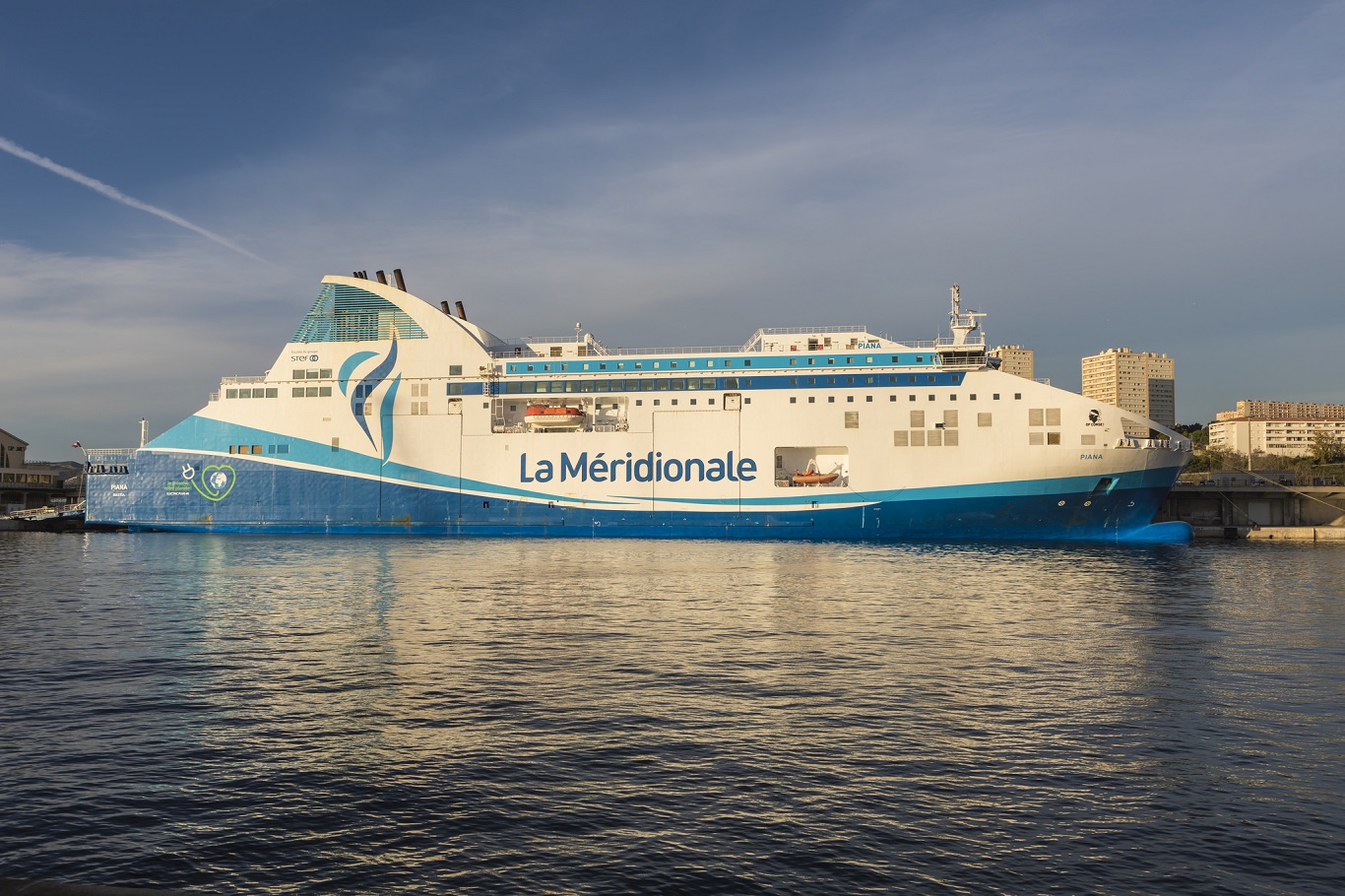 Case study: La Méridionale, a shipping company in France
Removing SOx and particle emissions from Piana
The results are conclusive, this process goes well beyond the regulatory requirements of MARPOL 2020 thanks to the elimination of 99.9% of fine and ultra-fine particles, in addition to sulphur oxide.
What are La Méridionale needs?
La Méridionale is a French Marseille-based shipping company operating a ferry service to the French island of Corsica since 1937, with 174 000 passengers and more than 740km of roll freight in 2021.
Comply with IMO 2020 regulations for SOx as well as future Particulate Matter regulations
From January 1st 2020, the International Maritime Organization Marpol Annex VI regulation will limit sulfur content in Heavy Fuel Oil to 0.5% in all the Globe's water, excluding Emission Control Areas (ECA) where a 0.1% sulfur limit is already enforced. Up to then, the general limit was fixed at 3.5% (1.5% for passenger vessels).
Decrease its environmental footprint with a cost efficient solution
La Méridionale was looking for a viable economic model allowing them to use high sulphur fuel while complying with air pollution control regulations for SOx, anticipate PM regulations, and also decrease its impact on the environment.
Reassure the local population
La Méridionale also wants to satisfy the inhabitants living near ports in Corsica and Marseille worried about the health risks associated with air pollution caused by ferry traffic. Particle emissions are especially problematic, as its inhalation can lead to increased risk of respiratory diseases, cardiovascular conditions and dermatological problems.
Discover SOLVAir® Marine solution
What did SOLVAir® Marine do for La Méridionale
Installation of a SOx and particle removal system for Piana
SOLVAirⓇ Marine team facilitated the joint collaboration of three partners: Solvay, Andritz and La Méridionale. The result of this collaboration is the installation of the world's first Dry Exhaust Gas Treatment System on the vessel PIANA. With its 30 years experience,  Solvay brought technical support during the engineering, construction and operation phases, with a specific focus on the injection of dry sorbent; Solvay also supplied the sodium-based sorbent and safely managed the residues. Andritz designed, built and delivered the equipment, integrated on the vessel under La Méridionale's responsibility.
A successful six month trial followed by continuous operation
Piana is the first vessel running SOLVAir® Marine Solution. SOLVAir® Marine teams, Andritz representatives and La Méridionale have run a trial of 6 months to test the efficiency of the solution on vessels running on High Sulphur Heavy Fuel Oil (HSFO).
Vessel was fully retrofitted in 2022, after some delays due to COVID 19 pandemic.
https://www.youtube.com/watch?v=g-vqR0JRPJg
Benefits for La Méridionale
Operators on Piana La Méridionale - SOLVAir Marine
Since SOLVAir® 's sodium based sorbents are safe and easy to handle, operators have to problems with using this technology
An easy installation
The installation of the dry exhaust gas treatment system on the Piana was done in only two weeks and didn't require any dry docking. 
No effluents released into the sea
Since SOLVAir® Marine provides a SOx and particle removal system that doesn't generate any liquid effluent, no pollutants are released into the air or sea.
High particle removal 
With the existing installation,>99.9 % of particles (<PM1) were removed . No plume of smoke is visible
This is not the first time that La Méridionale has innovated for the environment, and it is always a huge source of pride for our crews. This trial is part of our development strategy and follows the actions undertaken over many years to limit our environmental footprint. After limiting our quayside emissions, notably thanks to the electrification of our vessels, we are undertaking research on solutions to limit emissions at sea